This product is superseded by HL-24VRGBCW-IP68-PU
Submersible LED tape RGB + Cool White LED strip with quad chip (4 colours in 1 chip)
14.4W/m – 24V DC – 5m roll – 60 LEDs/m – IP68 (Waterproof) – 5-wire cable (15cm on each side of the strip roll)
Our 12mm LED strips are powered by 2oz high copper flexible PCB, which makes it possible to maintain a cooler operating temperature despite very high brightness. This also ensures less voltage drop, which is useful for installations which require longer runs; up to 10m can be powered from one end only, without causing a noticeable reduction in brightness. Overall, 12mm results in a longer lifespan of the LED strip, with a consistently strong performance throughout.
This new design of RGBW LED strip integrates all 3 primary colours (Red/Green/Blue) + Cool White in a single chip. Due to this innovative design (4 in 1 chip), the strip is brighter than the conventional RGB + W strips, which have one chip for RGB and another one for white.
The RGBW LED strips are powered by high-quality quad SMD5050 LED chips. The brightness of each chip is 20 lumens.
The power consumption is 14.4W per meter, which means an average of 3.6W per colour per meter.
Excellent colour rendering index (CRI) – all chips reach a value of Ra >80.
The strip can be cut every 6 LEDs (10cm). The width of the LED strip is 12mm.
Fitted with an easy to install original 3M adhesive tape with excellent adhesion (identified by a red protective strip on the adhesive side).
IP68 Waterproof Protection is achieved by using polyurethane and silicone (silicone sleeve + injection PU), which is the most expensive and best method that can be used on LED strips. This waterproof protection is very durable and does not become "yellowish" as it happens with most LED strips within 3 months of installation. Moreover, the LED strip remains extremely flexible, very clear, soft and well-protected throughout its lifetime. When installed correctly, this LED strip delivers an excellent performance and maintains its IP68 rating for more than 5 years.
All IP68 strips can be used in steam rooms and saunas (but LED drivers and controllers should be installed remotely)
Thanks to its superior quality, Hi-Line's IP68 rated LED strip has a very long lifespan when temporarily in contact with or submerged in water (e.g. in outside spaces such as a garden or building illumination). Hi-Line offers a 3-year warranty on IP68 rated LED strips for this type of use.
Continuous underwater use of Hi-Line's IP68 rated LED strip will result in the corrosion of the protective silicone sleeve leading to a gradual loss of its protective properties. For that reason, Hi-Line provides a 1-year warranty for this type of usage.
______________________________
The high quality of Hi-Line LED strip products ensures low decay, which increases the LED strip's lifespan and assures that the high level of the brightness is kept constant throughout the LED strip's life.
Please do NOT connect more than 5 meters of a LED strip in series. A LED strip of more than 5 meters in length is overloaded due to the increased amount of current passing through, resulting in the damage of the PCB and the failure of the LED strip. Thus, when 5 meters of the LED strip is exceeded, it is suggested to connect the strip directly to the LED controller using a 5-core cable.
Please note that this data is based on the average readings for a 5-meter long LED strip. If the length of the strip is 1 meter the power consumption will be higher as there is almost no voltage drop. For comparison, the test result for 1m RGBW LED strip with 14.4W and 60 LEDs showed a power consumption of 18.48W or 0.77A.
Installation hints and tips for LED strips can be downloaded at the bottom of this web page.
_____________________________
The RGBW LED strip comes with a 15cm wire ending on each side of the strip roll. Therefore, no extra soldering is required if the roll should be cut into 2 different pieces (i.e. 3 meters + 2 meters).
Please note that soldering is recommended for the connection of IP68 LED strips. When soldering, please remember to maintain a waterproof connection by using liquid electrical tape or waterproof heat shrink sleeving.
______________________________
All Hi-Line LED strips are dimmable. Please select a suitable PWM LED dimmer/controller to ensure the proper dimming of the LED strip.
All Hi-Line RGB and RGBW LED strips are fully compatible with Fibaro RGBW LED Controller, Rako or ANY common anode LED controller available on the market.
______________________________
The stated price is for 1 x 5-meter roll RGBW LED strip (Cool White) with 300 SMD5050 RGBW LEDs – IP68 (Waterproof), 24V DC.
______________________________
Selection of the LED driver depending on the maximum LED strip length
The table below shows the maximum LED strip length, which can be operated with a given LED driver.
To consider best power supply performance 20% was deducted from the maximum strip length in the table below.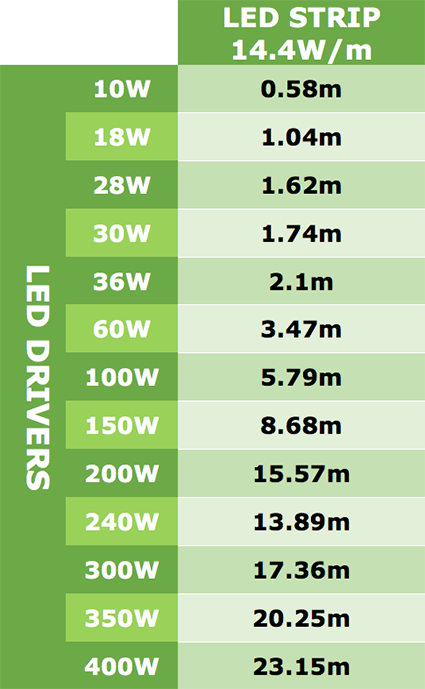 Note that, for driving RGBW LED Strips, you will have to combine the LED-Driver with an RGB/RGBW LED Controller.
In such case, the LED driver is not required to be dimmable. Brightness control (dimming) and colour adjustment is still possible through the LED controller.