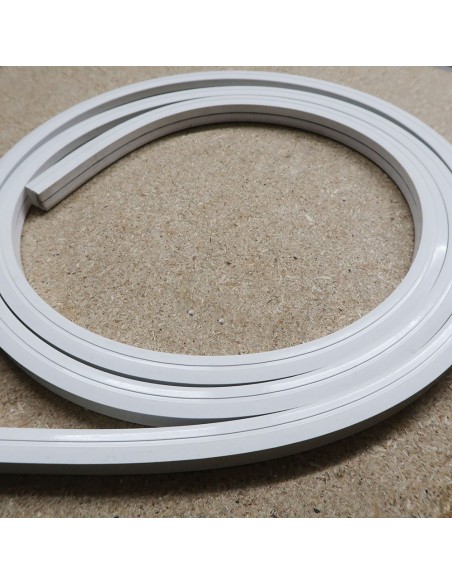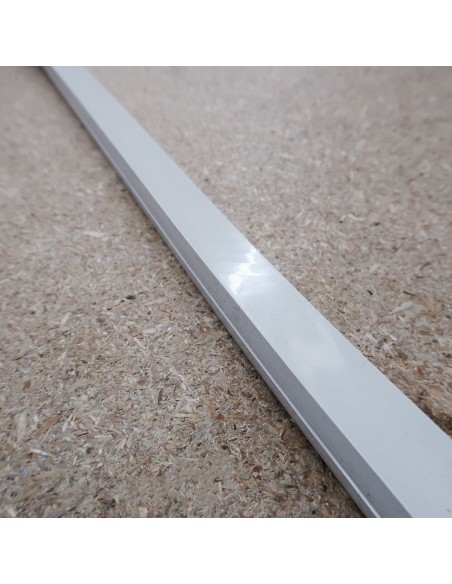 Natural White Top Bend Neon Flex 15x15mm 4000K (sold per meter)
Top Bend Natural White 4000K Neon Flex
High Brightness - Premium series
24V - 15 w/m - 120 LEDs/m CRI>90
Dimensions: 15x15mm (Top Bend)
Rating: IP65/IP67
3 year warranty 
Top Bend High Bright Natural White Silicone LED neon flex 4000K CRI>90 - 24V IP65/67- 15x15mm (Sold per meter)

Silicone LED Neon flex powered by 4000K natural white CRI>90 SMD2835 LED chips
15mm wide x 15mm height
Flame Retardant - UV Resistant - Salt water resistant - Solvent resistant
Suitable for installations on yatchs, facade lighting, indoor and outdoor projects.
Flat design for architectural lighting (Top Bending). Sits flush along edges and provides a 160 degree beam angle.
15 W/m – 24V DC – 120 LEDs/m – IP65/67 – 2 wire - Silicone
CCT 4000K, light output >700 lm/m
LED Neon flex can be cut at every 5 cm (50mm)
Please Note: Minimum order is for 1 Metre length. If you order more than a 1 Metre length of Neon Flex you will receive a continuous run as it is taken from a 50m roll.
Returns are not accepted, due to specialised lengths being cut, unless it's a complete 50m reel). Faulty returns will be accepted.
Also, if connectors and end caps are required, these need to be purchased separately (see associated products below). You will only receive tail ends when you purchase a 50m roll. Connection Kits for 15x15mm Flex require soldering.
If purchasing a 50 metre roll, please do not test the entire length - you will risk burning out the pcb / chips.
3 year warranty
IP67 rating is subject to correct installation
The high quality of Hi-Line LED Neon flex products ensures low decay, which increases the LED's lifespan and assures that the level of the brightness is kept constant throughout the LED's estimated life.
Please do NOT connect more than 10 meters of LED flex in series. A LED flex of more than 10 meters in length will overloaded, due to the increased amount of current passing through, resulting in the damage of the internal FCB and failure of the product. A maximum of 20m of this product can be installed in a single run only with 24V power fed from both sides in parallel. Alternatively you may power the flex (24V DC) in the middle of the run (leaving 10 meters LED flex to the left and 10 meters to the right).
_____________________________

All Hi-Line LED neon flex are PWM dimmable. Please select a suitable PWM LED dimmer/controller to ensure the proper dimming of the product.
LED neon flex is fully compatible with Lutron, Fibaro, Rako or ANY conventional constant voltage LED controller available on the market. We do also offer a wide range of single colour LED controllers including wireless, DMX512, ZigBee, DALI and and 0/1-10V to choose from.
______________________________
The stated price is for 1m Silicone LED Flex in natural white (4000K) powered by 120 x SMD2835 LEDs – IP65/IP67, 24V DC.
______________________________
Selection of the LED driver (LED switch mode power supply) depending on the maximum LED Neon Flex length
To consider best power supply performance, we suggest using 20% higher capacity (Wattage) of what the rated power consumption of neon flex will be.

Note: for driving single colour LED neon flex, you just need the flex, power connector and LED driver. If dimming is required you will have to combine the LED-Driver with a single colour LED dimming controller. In such a case, the LED driver is not required to be dimmable. Brightness control (dimming) and colour adjustment is still possible through the controller.
For further assistance, please visit out support page or contact us.
Voltage

24V DC

Colour

Natural White

Power

15 Watt per meter

Brightness

720 lm/m

Number of LEDs per meter

96

Rating

IP65 / IP67

Colour Temperature (CCT)

4000K

Colour rendering (CRI in ra)

more than 90

Height of strip

20mm

Cutting length

Every 6 LEDs (50mm)

LED Neon Flex Type

Flat Surface - Vertical Bending (Top)

Neon Flex Width

15mm

Neon Flex Height

15mm

Voltage Type

Constant Voltage

LED Neon Flex Beam Angle

160 Degrees

Warranty

3 Years

Brand

Hi-Line

LED Chip

SMD 2835
Customers who bought this product also bought: