RF Smart Wireless dimmable RGBW LED controller, constant voltage output to be used with LED strip lighting.

***New upgraded version with easy connection terminals***
Perfect match for our 4 zones RGB/RGBW LED remote control model "RGBW-RF-4Z" (sold separately).

For pairing instructions (controller with remote) please check the remote technical brochure.

Can also work in combination with Wi-Fi LED gateway and control LED strip lighting through iOS or Android devices.
Several controllers can be assigned to function with one or more remote controls either in sync or multi zone environment.

It comes with a learning button for quick and easy link with the remote control. 

RGBW controllers may be wired independently from each other (using separate PSU's, as an example in case of being installed on different areas or even rooms) and still can operate either in sync or paired with any of the 4 zones using remote control or any of the 8 zones using Wi-Fi gateway or both.
4 Channels output (perfect for RGB or RGBW LED Strips), 5 Amps per channel maximum load.
Can operate with wide range of input voltages, between 12 to 36 Volts DC, this makes the products ideal to be used with either 12 or 24 Volts LED tapes.
An extra LED Driver (non dimmable) will be necessary to provide the DC voltage according to the application and design. It is strongly recommended using only switch mode power supplies!
Can also be used with single colour LED strips:
This wireless controller can also be used in combination with our single colour remote control that can support up to 5 zones of single colour LED strip lighting (one zone per RGBW-RX01E controller)
NOTE: This LED Controller will work only with Hi-Line remotes and Wall Mounts. 
Works with our Wireless Touch Wall Panel RGBW-4Z-WRF
Case study - Installation - Considerations for Voltage drop:
Every maximum 5 meters of rgbw led strip should be wired directly with the led controller!
Suggested to join two 5m (14.4W/m) RGBW LED tapes between them only if fed to the controller from both sides (ring circuit)
7.2W/m RGBW LED tape can be installed up to 10m per run with supply only from one end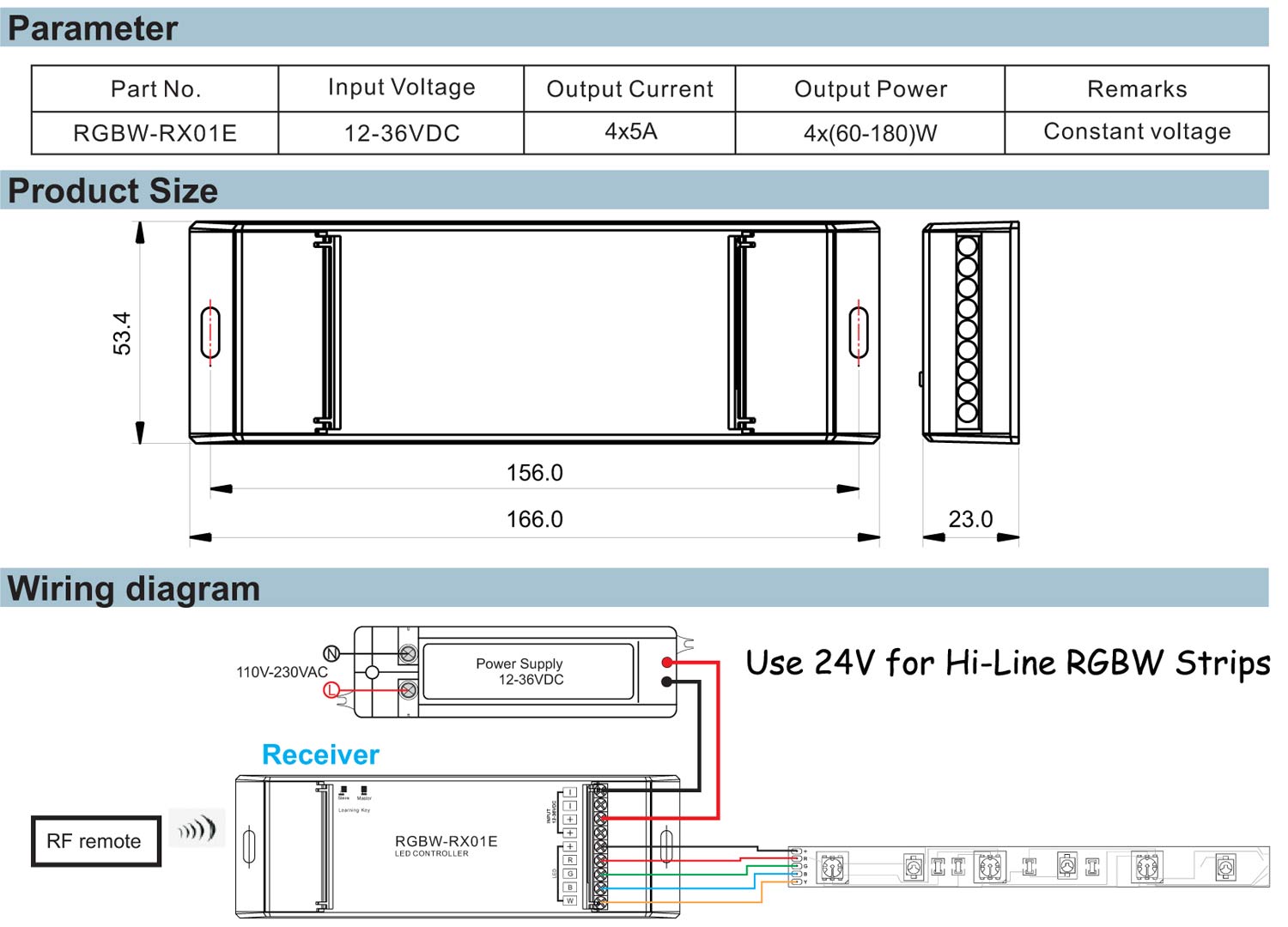 Please download user manual located at the end of this page for further details
We will be happy to provide technical support and help you design your own configuration, please contact us.