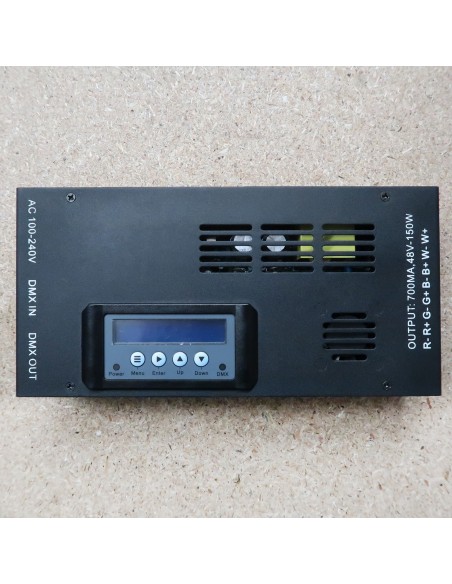 DMX 512 RGBW LED Controller
DMX RGBW LED Controller
1 RJ45 Port output
700mA / 150W
DMX512 RGBW 4 Channels LED controller 700mA 150 Watt
To be used with our 12 Watt high power constant current MR16 RGBW constant current 700mA LED module
Input Voltage: 240V AC / 50 Hz
Output: 48Volts, 700mA (constant current)
Control protocol: DMX512
Installation notes:
Every DMX Led controller has 1 X RJ45 output and you may connect up to 10 RGBW MR16 LED modules. Every controller is mains powered (100~240V AC) and comes with a built-in LED driver of 700mA at 48 Volts DC (no extra drivers are necessary).
For installations of more than 10 modules extra LED controllers are necessary to be purchased accordingly. The LED controllers are wall mounted and are compatible with standard DMX512 signal, meaning that you may configure the system to work with any "smart home controller" or any device that is in compliance with DMX lighting protocol. If you plan using longer network cable other than the supplied standard 2 meters length (2 meters between T-Boxes) then voltage drop has to be estimated and less RGBW modules should be connected to every controller accordingly.   
Please note:
If installing a single spot-light, this plugs directly into the DMX controller's RJ45 port. If multiple spot-lights are being daisy chained via the T-shape junction boxes, you must ensure to terminate your last connection point with a spotlight; DO NOT add another terminal link with spot-light then attached, as this won't work.
For more information, please see our guide with photos.
Concerning control of the final installation, you can program all RGBW modules to respond to commands by a Lutron smart home system (using the extra Lutron DMX interface) or any other smart controller of your choice.
If you prefer to control the RGBW modules just by an iphone or ipad it is also possible as many applications in the market are made that are compatible with DMX signal that our wall mount LED controllers can accept as input (such as Nicolaudie Sunlite "stick" or similar).
We are always more than happy to offer further assistance for selecting the proper control mode for any project.
Type

RGB/RGBW controller

Type of control

DMX512

Voltage Type

Constant current

Warranty

3 Years

Brand

Hi-Line
Customers who bought this product also bought: