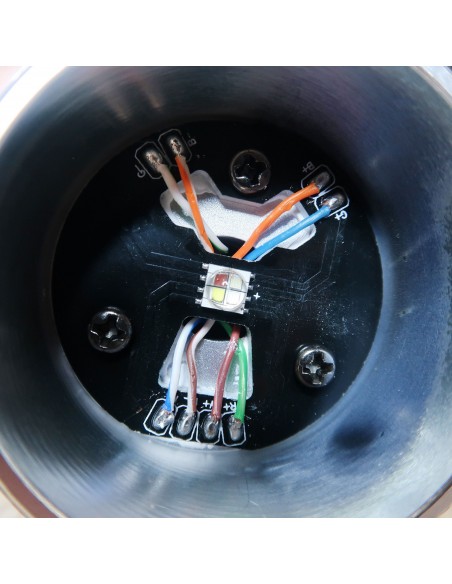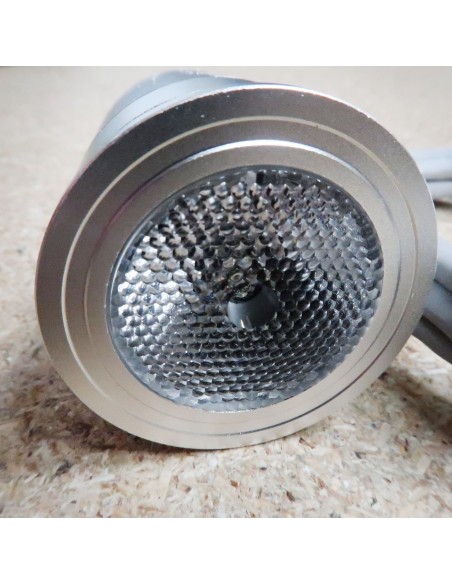 RGBW MR16 LED downlight module 12W Cree quad LED chip RGB+WW
RGBW LED downlight module 50mm
Fits most 50mm downlights
Beam angle 45 degrees
12 Watt Constant current 700mA - 4 channels
Ready with RJ45 plus
DMX512 RGBW MR16 LED downlight module 12W Cree quad LED chip RGB+CW (6000K), 45 degrees beam angle
Fits most 50mm downlights
RGBW (RGB+2700K) MR16 LED module 50mm diameter, powered by 12 Watt Cree LED "DMX512 ready".
DMX high brightness RGBW LED downlight module spot light powered by 12W CREE XML QUAD LED 4 in 1 integrated LED chip, beam angle 45 degrees, IP20 dimensions Ø50 x 80mm.
supplied with 1.5 meters of CAT 5 cable terminated with RJ45 plug, RJ45 T-BOX plastic quick connector and 1 meter of network cable with plugs. Requires additional external DMX512 LED controller, constant current 700mA sold separately
This LED module operates on constant current 700mA, comes ready with CAT5 cable and RJ45 plug for easy and fast retrofitting of existing MR16 or GU10 fixtures. Using the supplied T-BOX you may simply "plug and play" all your spots (daisy chain) to the DMX RGBW 4 channels, 1 zone LED controller and interface with any smart home controller through DMX512 gateway. This is not a stand alone downlight and requires DMX professional installer to setup.
Installation notes: The power consumption of each module is maximum 12 Watt when all colours are set to 100%
RGBW Module has the same diameter as the standard MR16 halogen lamp, so you may choose any design of a standard MR16 or GU10 lighting fitting and use the module as a light source. A test will be necessary to make sure the selected fitting can fit the specific module, some fittings might not be compatible. RGBW LED module operates on constant current mode and is supplied ready with a 2 meters CAT5/ cable with RJ45 plug and an extra 2 meters network cable with plugs. With every module we do also supply a plastic "T-BOX" for daisy chain connection of all modules with the LED controller output. A higher quality metal RJ45 "T-BOX" is also available at extra cost.
If installing a single spot-light, this plugs directly into the DMX controller's RJ45 port. If multiple spot-lights are being daisy chained via the T-shape junction boxes, you must ensure to terminate your last connection point with a spotlight; DO NOT add another terminal link with spot-light then attached, as this won't work.
For more information, please see our guide with photos
Weight: 374g
Luminous Flux (after lens): Red/83 lm, Green/118 lm, Blue/22 lm, White/126 lm
Optional beam angles available: 25° (pre-order only), 8 or 45° (ex-stock)
For further assistance or technical questions please contact us, we will be happy to assist.
Voltage Type

Constant current

LED Module Beam Angle

45°

Warranty

3 Years

Brand

Hi-Line

LED Chip

Cree RGBW
Customers who bought this product also bought: