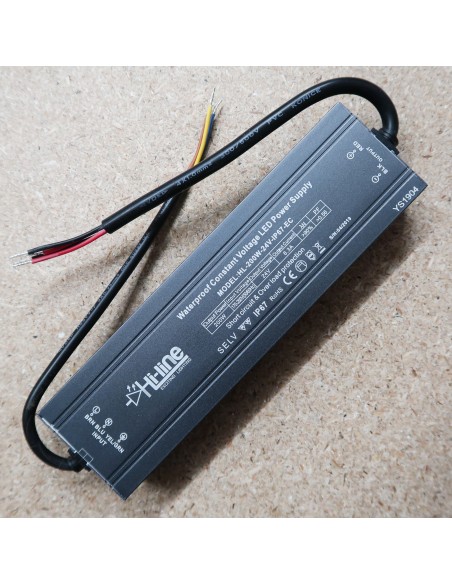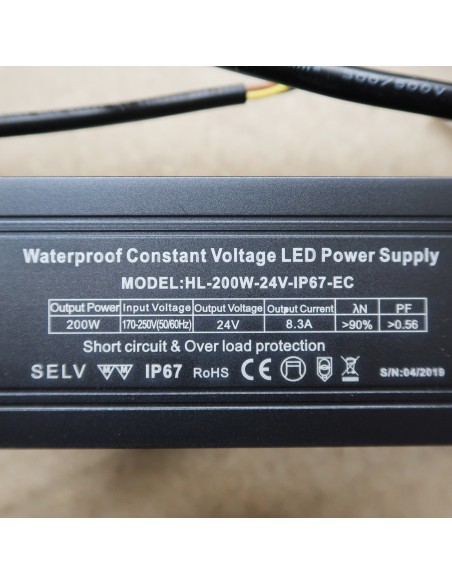 24V 200W Constant Voltage LED Driver IP67 (EC Series)
IP67 LED Driver 200W/24V
Suitable for LED Strips
Input: 170~250V AC (50/60Hz)
Output: 24V / 8.33 Amps
Constant Voltage Type
3 Year Warranty
High Efficiency 24 Volts Constant Voltage LED Driver 200 Watt IP67 (EC Series) - 3 Years Warranty
Non-dimmable LED Driver suitable for LED Strips of total power consumption up to 200W.
It is recommended to calculate 20% more than the tape power consumption to cover voltage drop of the circuit.

Note: This is an economy series driver. If you prefer lower in-rush current and higher power factor products, then consider our premium series drivers instead. Installers should be aware of in-rush current and the type of MCB required in such cases.
To learn more about In-rush current, visit out support page HERE
LED Driver 200W/24V Suitable for LED Strips
Short circuit and overload protection
Input: 170~250V AC (50/60Hz)
Output: 24V / 8.33 Amps
Efficiency: 90%
Rating: IP67 (Waterproof)
Dimensions: 239*61*33 mm
Weight: 844g
Warranty offered for the LED driver is 3 years
PLEASE ALSO CHECK OUT OUR 200W/24V PREMIUM LED DRIVER HERE (5 YEARS GUARANTEE)
___________________________
Note that LED strips dimming is possible if this driver is used in combination with an LED controller. In such case LED driver is not required to be dimmable and brightness control (dimming) is still possible through the LED controller.

For driving RGB or RGBW LED Strips, you will have to combine the Driver with an RGB-RGBW LED Controller.
____________________________
IMPORTANT NOTICE!
This device should be installed by a qualified electrician in accordance with the latest edition of the IEE Wiring Regulations and any applicable Building Regulations.
____________________________
The table below shows the maximum LED strip length, which can be operated with this LED driver.
To consider best power supply performance 20% was deducted from the maximum strip length in the table below.

For more information about the installation of LED Strips, you can download the below PDF file: "Installation of LED Strips".
Customers who bought this product also bought: