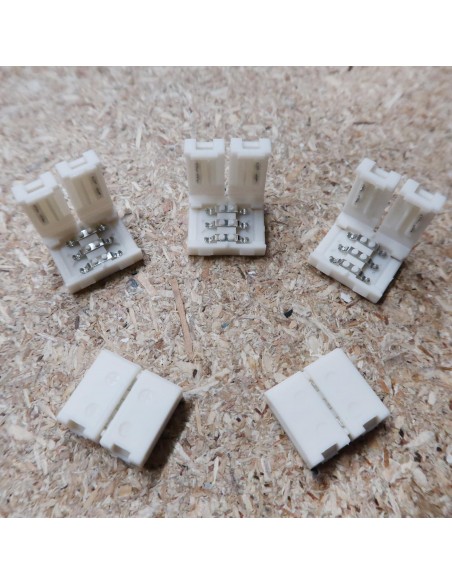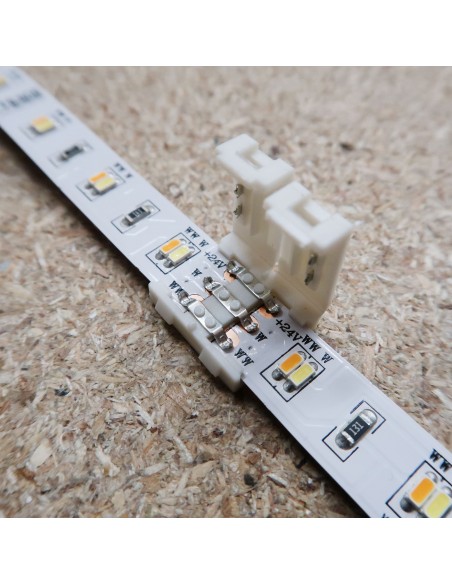 10mm tuneable strip to strip solderless Connector (3 pin) pack of 5
Tuneable Strip to strip connector
10mm / solderless / 3 Pin
Pack of 5
Tuneable strip to strip solderless connector for 10mm strips (

pack of 5

)
This connector will only work with our Tunable 120 LED per metre tape.
This connector is used to connect two lengths of single colour LED strip together without any soldering required.

The LED strip light must be 10mm wide in order to use this connector (RGBW LED strip 10mm width).
In order to use with IP rated LED strips, waterproof coating (resin) must be removed from the end of both LED strips. You can use on the top of the connection heat shrinkable tubing to maintain IP rating.
Please ensure connector clips are aligned with the copper contacts of the LED Strip and notice the polarity. If connecting IP rated strips, remove any gel coating from copper contacts completely. In some cases, it might be required to move the LED forward or backwards in order for connector contacts to be aligned properly. Then, insert the strip in the slot and before closing the connector cover and ensure that the teeth clamps are holding the circuit board of LED strip in place. If an LED chip is located nearby the copper connection contacts of the strip, the cover might not be able to close and you may try using the other end of your LED strip and install the connector upside down in order to match the polarity.
We suggest using this connector to power up to 5m of LED strip. To power longer runs a soldered connection is suggested.
TUNABLE WHITE LED TAPE
HL-TW3014-120-IP00-24V
Tunable CCT: 2700-6500K 24 Volts, 14.4W/m, IP00 120 SMD3014 per meter
Customers who bought this product also bought: