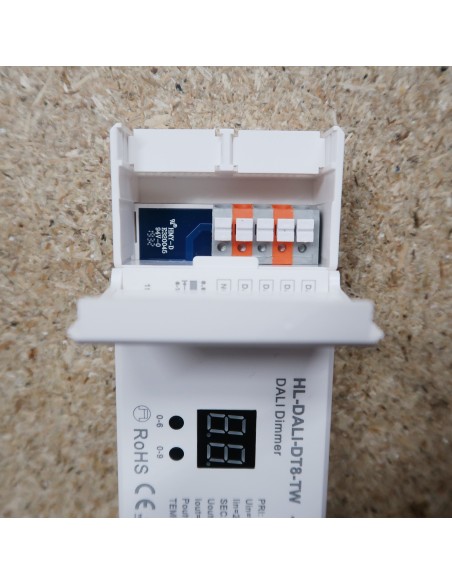 DALI Type 8 Tunable White constant voltage dimming controller
DALI Type 8 Tunable White Controller
Type 8 (1 DALI ADDRESS)
CONSTANT VOLTAGE
DALI TUNABLE WHITE PWM DIMMING CONTROLLER DT8 (Device Type 8) -

Single DALI Address
This is a DALI Type 8 (DT8) device that can be used with dynamic white LED strips. Its a 4 output channel constant voltage LED controller and can be assigned with a single DALI address.
Supports DT8 device commands, compatible only with DALI masters that support DT8 commands.
Built-in numeric digital display for setting DALI address manually.
Configurable via DALI software tool and DALI USB interface
Important note: Not every DALI Master control device supports commands for DALI type 8.
Perfect match for all Hi-line's Dynamic white LED strips.

       4 channels constant voltage common anode output

       Input: 12 to 36 Volts DC

       Complies to IEC62386-209:2011

       Output current: 4 x 5A (max)

       Output power per channel: 12V/60Watt, 24V/120Watt, 36V/180Watt

       Overcurrent / overheat protection

       Enables Dimming and Color Temperature Adjustment

       Waterproof grade: IP20

       Size: (LxWxH) 170x53x28mm

       5 years Warranty
Customers who bought this product also bought: