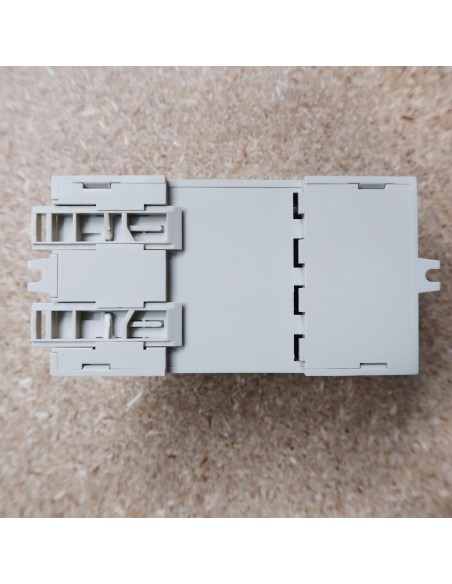 DIN RAIL DMX RGB RGBW LED CONTROLLER 4 CH
DIN rail DMX512 RGB+W LED Controller
Constant Voltage type
4 Channels DMX-512 input
DIN Rail mounting DMX512 RGBW LED Controller (4 Channels) constant voltage - common anode
This is a solid and tested product that can drive RGB, RGBW or single colour LED strips and other constant voltage LED products.
Input voltage can vary between 12 to 36V maximum.
The maximum current per channel that this controller can handle is 5 Amps.
DMX start address can be set at any value between 001 to 512 using the buttons available on the front panel
Start Address will be then saved in memory and even after power interruption will be recalled to the previous settings.
This version of RGBW DMX DIN Rail controller comes with built-in RJ45 plugs for quick connection of the dmx signal cables.
Specifications
Input Voltage: 12 to 36 Volts DC
Output voltage: According to input voltage (12‐36V)
Maximum output current: 5 Amps per channel
Output Channels: 4 Channels
Output power: 4CH x 60‐180W each (12‐36V)
Mode: Constant Voltage
Signal input: DMX512
DMX Start Address settings: 1 to 512
Mounting: DIN Rail (3 Mod)
Number of modules: 3
Dimensions:  L 10cm (11.1 inc. end studs), W 5.5cm, H 6.6cm
Warranty: 5 Years
Installing our RGBW LED Strip (60 leds per meter) with DIN Rail DMX512 RGBW LED Controller:
RGBW LED Strip (4 in 1 integrated LED chip) has a power consumption of 14.4W per meter
That's the power consumption of all 4 colours together, meaning an average of 3.6W per colour per meter.
Note: Those are the average readings based on 5 meters length of strip, if the length is less as an example 1 meter the power will be higher due to the reason that there is no voltage drop. (Check the RGBW Led strip page for more details).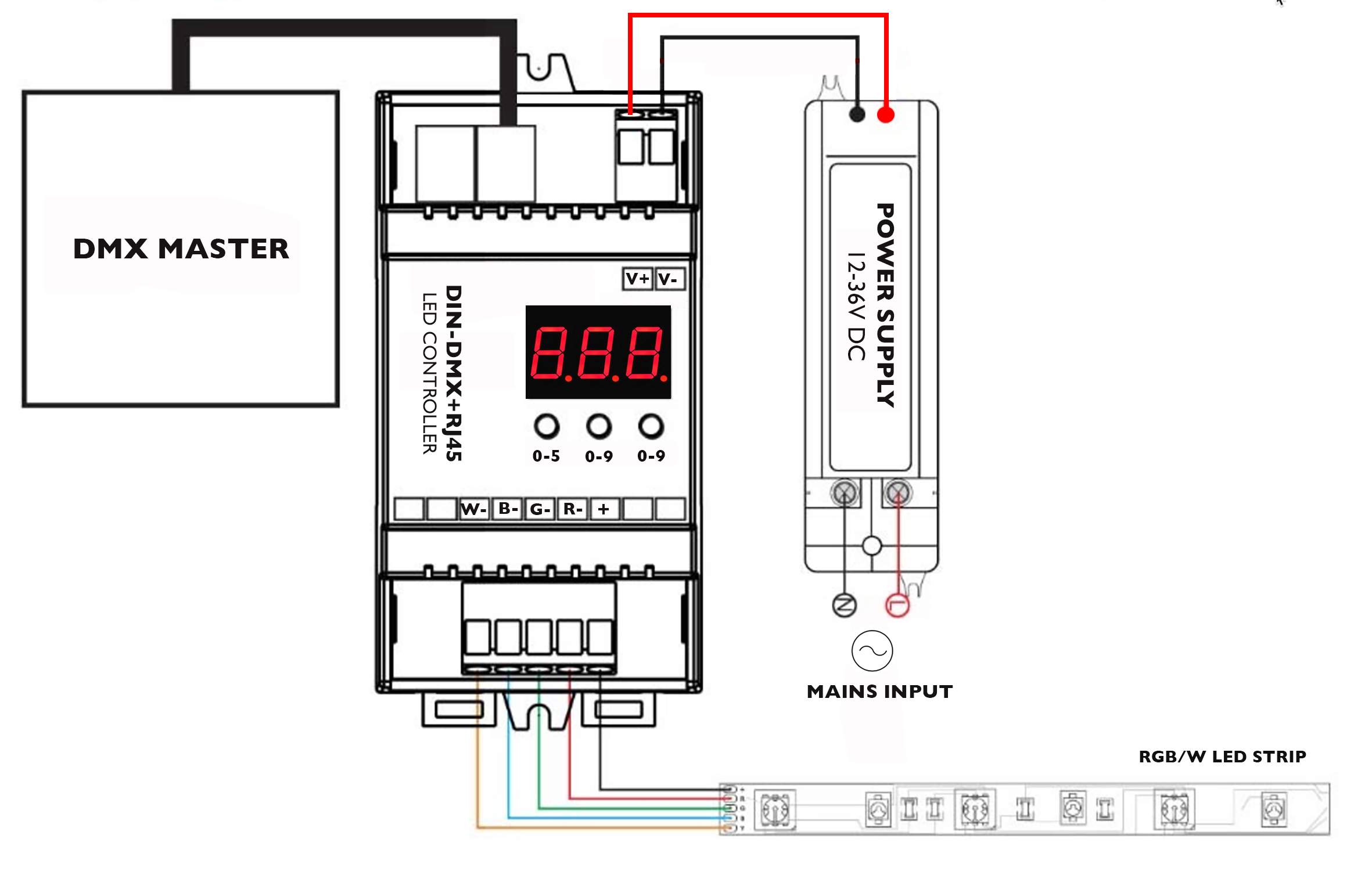 Installation hints and tips for LED strips can be downloaded at the bottom of this Hi-Line web page.
______________________________
The specific LED controller can handle a maximum of 5A per channel but is suggested to load the controller with no more than 3.5A in order to operate at lower temperatures.
Note: If adequate ventilation is provided you may load this controller with up to 5A which is the maximum current per channel that can pass through the triacs without being damaged.
Since RGBW LED strip is rated at 24 Volts, we can assume a current of 0.15A per channel (based on a average 5 meters length of rgbw led strip).
If we load the controller with the "safe" value of 3.5A per channel rated at 24V, means we can connect up to 84 Watt per channel or maximum of 23 meters of RGBW tape to every controller. Every maximum of 5 meters RGBW LED strip is suggest to be connected with the DMX LED controller directly using a separate 5 core cable. Never connect from one 5 meters roll to another.
______________________________
For more information please download user manual available at the bottom of this page
Voltage

12-36V DC

Rating

IP20 (Non-waterproof)

Type

RGB/RGBW controller

Type of control

DMX512

Voltage Type

Constant Voltage

Resolution

8-Bit

Warranty

5 Years

Brand

Hi-Line
Customers who bought this product also bought: