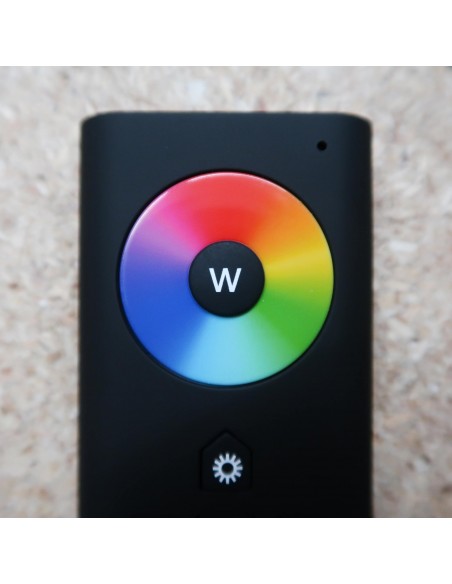 6 Zones RGB / RGBW LED Remote control
RGB/RGBW LED Remote
Up to 6 zones
Wireless RF control
Multi zone led strip remote - 6 Zones smart wireless RGB/RGBW LED Remote control (RGBW-RF-6Z)
This remote control can be used with RGB or RGBW LED Strips in configuration for up to 6 zones that can be controlled individually using only one remote.
Every zone requires a separate RGB / RGBW wireless LED controller (model number RGBW-RX01 or RGBW-RX01E) and can consist of unlimited number of receivers which will auto synchronize between them using a "master/slave" concept.
NOTE: Compatible only with Hi-Line's branded Controllers.
Every "master" RGB / RGBW wireless controller is assigned to one of the 6 zones available on the remote, slave LED controllers get in sync automatically through wireless radio signal and the result is a complete and precise colour synchronization between all controllers of each zone.
Every wireless RGB / RGBW LED controller can be assigned to be controlled by a maximum of 8 remote controls simultaneously.
Learning (Matching) - Pairing a remote with LED controller
      Install 3 x "AAA" size batteries on the remote control.
      Connect the LED Strips and external power supply with the LED controller.
      Power on the remote using on/off button
      Press momentarily the learning button located on the LED controller.
      Touch pairing ZONE button located on the remote control (1 to 6).
      Touch on the remote control colour wheel (any colour)
      If pairing is successful LED Strip connected will blink once immediately after step 6.
Note: Steps 3 to 6 should be done within a few seconds.
Remove/Delete Pairing between remote and controller
In case that you need to remove/delete the pairing, simply hold learning button for more than 5 sec. Blinking of the LED Strips means that pairing is not removed and the controller will then switch on all 4 output channels.
Please download our technical brochure for more information (at the end of this page).
Customers who bought this product also bought: