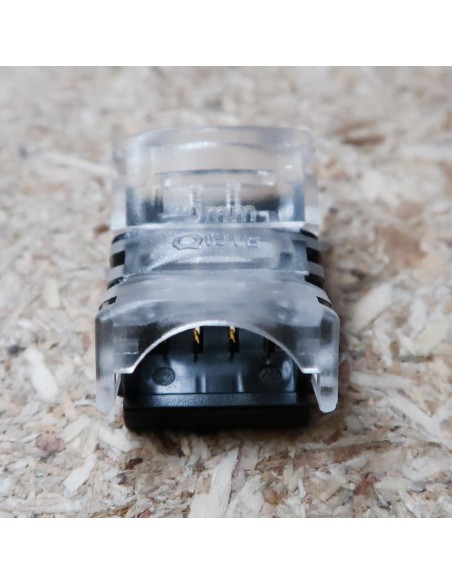 Strip to strip connector for 10mm IP65 LED tape RGB colour (pack of 5)
4 pin LED strip to strip connector
Supports high current LED strips
For 10mm IP65 RGB LED strips 
A LED strip connector designed for 10mm wide IP65 splashproof RGB LED strip lights
Connect IP65 splashproof / waterproof LED strip without removing surface coating gel.
This is a very high quality strip to strip connector suitable only for IP65 10mm RGB LED strips.
Compatible with 30-120 LEDs/m LED strips (10mm wide). This connector is made of flame retardant material.
Supports high current LED strips!
The IP65 connectors are suitable for use with the gel coated (PU) IP65 LED strips (please note that this connector is not compatible with the IP00, nano or nano PU LED strips).
­­­______________________________
Note: Please DO NOT close caps of the connector before strip to be in place as it is hard to open!
______________________________
Technical Data
Size: L25mm X W14.6mm X H7.7mm
Colour: Transparent with black base
Number of Pin: 4
Pin distance between them: 2.4mm
Connection hardware: High precision brass(Cu)
Voltage range: 12-24V
Maximum current: 5A
Normal working temperature: ≦60°C
Working Temperature: -20°~+40°C
Rated Standard: IEC/EN 60664-1
Shell material: Polycarbonate
Flame Retardant: UL94v-0
Pin Surface Treatment: Tin-plating
Standard Package: 5pcs/bag
RGB LED STRIPS
HL-LS5050-30RGB-IP65-24V
RGB LED strip, 24V, IP54/65 (Waterproof) 30 LEDs/m–7.2W/m–540Lm/m 5m roll–10mm width 3 year warranty
RGB LED STRIPS
HL-LS5050-60RGB-IP65-24V
RGB LED strip, 24V, IP54/65 (Splashproof) 60 LEDs/m–14.4W/m–1080Lm/m 5m roll–10mm width 3 year warranty
Customers who bought this product also bought: