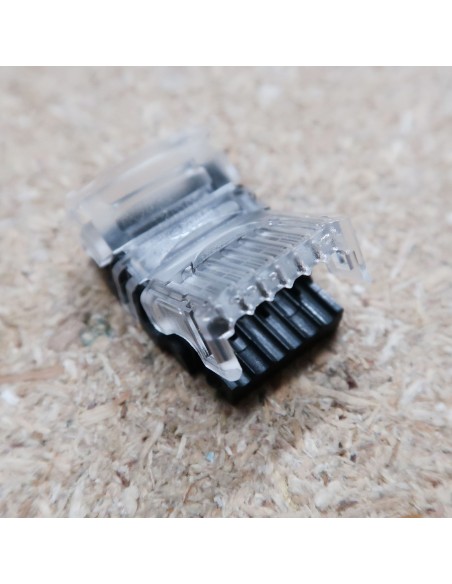 IP65 RGB-Tunable white 6 pin strip to power connector for 12mm IP65 LED tape
IP65 RGB + Tunable White LED strip to wire connector
Only fits 12mm RGBW-TW IP65 strips
A LED strip connector (strip to power/wire) designed for IP54/IP65 RGB + Tunable White 12mm wide LED strips
Assemble wires by yourself as needed, flexible for different projects, DIY customized length of wiring (wiring not included)
With this revolutionary LED strip to power connector you can customize the required length of the cable, gauge, insulation colour and wire core type (stranded or solid), use wires of your preference per project requirements.
This is a high current strip to wire power connector suitable only for IP54/65 RGBW-TW LED strips 12mm wide.
Compatible with Hi-Line's 6 pin LEDs/m LED strips (IP65 RGBW-TW 12mm).
This connector is made of flame retardant material.
Supports high current LED strips.
Please note that this connector is not compatible with IP00 LED strips.
SIZE: L25.4mm X W17.10mm X H8mm
Note: Please DO NOT close caps of the connector before strip to be in place as it is hard to open!
This connector can only be used with 12mm IP65 RGBW-TW strips
Customers who bought this product also bought: