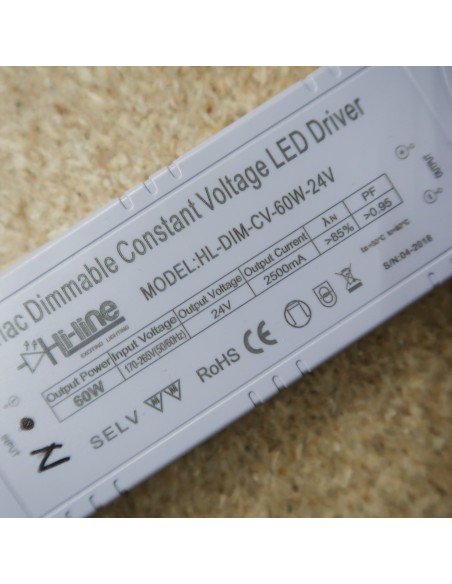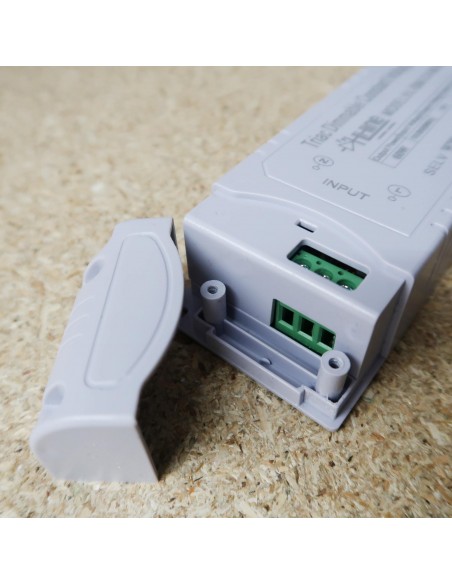 Mains Dimmable LED Driver 24V 60W IP20
Mains Dimmable LED Driver
24V PWM Output
60 Watt / 2,5A
Non Waterproof (IP20)
Warranty: 3 Years
Mains Dimmable LED Driver 24V 60W IP20
This Mains dimmable LED driver operates with trailing edge phase cut dimmers and can be used to dimming 24 Volts LED strips, controlled by normal dimmer switches powered by 240V AC. 
It can operate with load ranging from 50% to 100% and the dimming range will be from 5% to 100%.
______________________________
It is suggested to load this driver with at least 30 Watt (maximum 60W) and use suitable trailing edge dimmer with minimum rated operating wattage that matches your LED strip load.
We do offer the following wattages concerning mains dimmable LED drivers: 12W/20W/30W/60W/100W/150W/200W.
The reason that we offer a variety of wattages is because dimmable Led drivers (mains dimmable 240V) should be matched with LED strip load and is important that LED strip power consumption to be between 50 to 100% of the dimmable driver capacity.
______________________________
The Hi-Line, low wattage, mains dimmable drivers are compatible with trailing edge dimmers. We have tested the Varilight V-Pro (VL JQP401W) dimmer and it works smoothly (without any flickering) with our low wattage mains dimmable drivers (12W, 20W, 30W, 60W).
(We do suggest to test the dimmers on-site, before installing)
Input Voltage: 240V AC – (Dimmable)
Output Voltage: 24V DC (PWM/Dimmer) 60W/2,5A
Loading ranging: Stepless from 50% to 100%.
Dimming range: Stepless from 5% to 100%.
Power factor: >0.95
Efficiency: >85%
IP Rating: IP20
Dimensions: (LxBxH): 170x50x29mm
Weight: 296g
3 Years Warranty
______________________________
IMPORTANT NOTICE!
This device should be installed by a qualified electrician in accordance with the latest edition of the IEE Wiring Regulations and any applicable Building Regulations.
______________________________
Selection of the LED Driver depending on the minimum-maximum LED strip length
The table below shows the minimum-maximum LED strip length, which can operate with this mains dimmable LED Driver.
Voltage

24V DC

Mains Dimming

Trailing Edge Dimmers

Power

60 W

Rating

IP20 (Non-waterproof)

Type

mains-dimmable

Voltage Type

Constant Voltage

Brand

Hi-Line
MAINS - DIMMABLE
HL-DIM-CV-60W-24V-IP67
Dimmable LED Driver 24V PWM Output 60 Watt / 2,5A Waterproof (IP67) Warranty: 5 Years
HYBRID DIMMABLE (Triac & 0/1-10V)
HL-10VT100W-24V-IP67-EC-5Y
Hybrid Dimmable LED Driver Works with Triac dimmer switches, 0-10V or potentiometer 24V DC Output 100 Watt / 4.16A Waterproof (IP67) Warranty: 5 Years
HYBRID DIMMABLE (Triac & 0/1-10V)
HL-10VT60W-24V-IP20
Hybrid Dimmable LED Driver IP20 Works with Triac dimmer switches, 0-10V or potentiometer 24V DC Output 60 Watt / 24V Warranty: 3 Years
Customers who bought this product also bought: