IP65 High CRI Ra >90 LED Strip Light - 60 LEDs/m - 4000K- 7.2 Watt per meter - 5 meters roll
Waterproof (IP65), 24 Volts constant voltage white 4000K, with new "heat-sleeve" protection on tail ends. 
High Bright LED Strip SMD2835 Chip, 60 LEDs/m, 7.2W per meter, 5 meters roll.
This is a high bright LED strip, powered by Epistar SMD2835 LED chips (690 lm per meter/7.2W/60 LEDs)
The width of this IP rated LED strip is 8.5mm (including IP65 coating), height 3mm and can be cut at every 6 LEDs (10cm)
3 Years Warranty
All our LED Strips are dimmable. Please select a suitable PWM LED dimmer/controller.
______________________________
Please note that soldering is recommended for the connection of LED strips. However, if a solder free connection is preferred, Hi-Line's solder free connectors offer the best solution currently available on the market.
Please Note:
Do to the very thin coating on NPU strips, it is not possible to use IP65 connectors. This is due to the connector's concave design, which won't clamp onto the strip when closed. As such, it is recommended to use the equivalent IP00 connectors, such as the IP00 8mm Strip-to-Wire Connectors and the IP00 8mm Strip-to-Strip Connectors.
______________________________
Price is for a 5 meters roll (300 LEDs), waterproof (IP65), 7.2W/m CRI Ra>90 LED strip white 4000K
Please note that the same 4000K white LED strip is available with a higher brightness with 14.4W per meter power consumption.
______________________________
Selection of the LED driver depending on the maximum LED strip length
The table below shows the maximum LED strip length, which can be operated with a given LED driver.
To consider the performance drop, which occurs in the power supply cable and the efficiency of the LED Driver, 20% was deducted from the maximum strip length in the table below.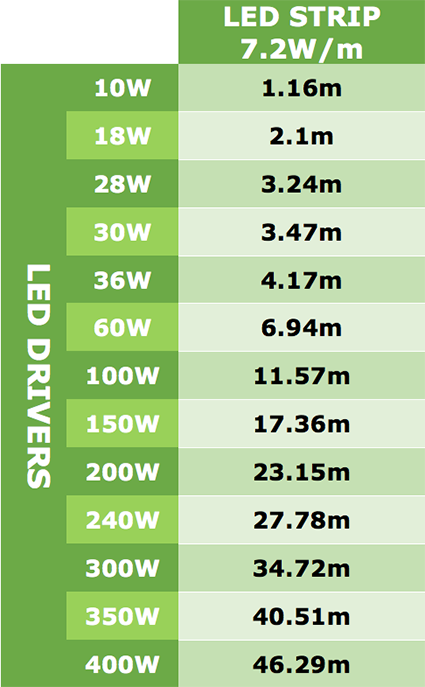 Note that LED strips dimming is possible if the driver is used in combination with an LED controller. In such case LED driver is not required to be dimmable and brightness control (dimming) is still possible through the LED controller.
For more information about the installation of LED Strips, you can download below "Installation of LED Strips".