Commercial High-Grade Natural White LED Strip 4000K
14.4W/m – 24V DC – 5m roll – 60 LEDs/m – IP54/65 (Splashproof) – 2-wire cable (15cm on each side of the strip roll)
This very high brightness LED strip is powered by high-quality SMD2835 LED chips which generate a brightness of 1320-1440Lm/m. Please note that 1.2 meters of this LED strip has the same or even higher brightness than a 4ft fluorescent tube.
Excellent colour rendering index (CRI) – all LED chips reach a value of Ra >80.
The strip can be cut every 6 LEDs (10cm). The width of the LED strip is 8mm.
Great for sign makers, cove lighting or any application that requires high brightness LEDs.
Note: Whenever possible, it is suggested to install this LED strip on an aluminium bar to ensure proper cooling and thus increasing the lifespan.
Fitted with an easy to install original 3M adhesive tape with excellent adhesion (identified by a red protective strip on the adhesive side).
IP54/65 Waterproof Protection (IP54/65 = Splashproof) is achieved with polyurethane and silicon, which is the most expensive and best method that can be used on LED strips. This waterproof protection is very durable and does not become "yellowish" as it happens with most LED strips within 3 months of installation. Moreover, the LED strip remains extremely flexible, very clear, soft and well-protected throughout its lifetime and can keep its IP54/65 rating for more than 5 years if installed using an aluminium LED profile (to run at lower temperatures). Please note that IP00 rated LED strips are recommended wherever IP54/65 rating is not required (e.g. in indoor spaces) as these are easier to handle and install.
3-year warranty
______________________________
The high quality of Hi-Line LED strip products ensures low decay, which increases the LED strip's lifespan and assures that the high level of the brightness is kept constant throughout the LED strip's life.
Please do NOT connect more than 5 meters of a LED strip in series. A LED strip of more than 5 meters in length is overloaded due to the increased amount of current passing through, resulting in the damage of the PCB and the failure of the LED strip. Thus, when 5 meters of the LED strip is exceeded, it is suggested to connect the strip directly to the LED controller or driver using a 2-core cable.
Installation hints and tips for LED strips can be downloaded at the bottom of this web page.
_____________________________
The LED strip comes with a 15cm wire ending on each side of the strip roll.Therefore, no extra soldering is required if the roll should be cut into 2 different pieces (i.e. 3 meters + 2 meters).
Please note that soldering is recommended for the connection of LED strips. However, if a solder-free connection is preferred, Hi-Line's solder-free connectors offer the best solution currently available on the market.
______________________________
All Hi-Line LED strips are dimmable. Please select a suitable PWM LED dimmer/controller to ensure the proper dimming of the LED strip.
______________________________
The stated price is for 1 x 5-meter roll LED strip (Natural White) with 300 SMD2835 LEDs – IP54/65 (Splashproof), 24V DC.
______________________________
Selection of the LED driver depending on the maximum LED strip length
The table below shows the maximum LED strip length, which can be operated with a given LED driver.
To consider the performance drop, which occurs in the power supply cable and the efficiency of the LED Driver, 20% was deducted from the maximum strip length in the table below.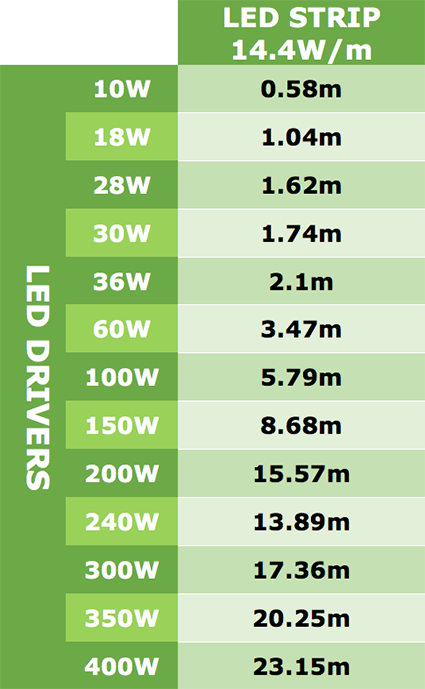 Note that LED strips dimming is possible if the driver is used in combination with an LED controller. In such case LED driver is not required to be dimmable and brightness control (dimming) is still possible through the LED controller.